Domestic Shipping

Domestic shipping includes the United States and Puerto Rico. UPS is our preferred domestic shipper at roc-noc.com. Rockford Airport is a major UPS Air Hub and their services are reliable, predictable, cost effective, and fully insured. UPS accepts large boxes up to 75 pounds and multi box shipments. The UPS Ground Delivery Map below shows delivery times in business days (Monday through Friday).


Next Day (1 day) delivery by Ground service includes all of Wisconsin, the Northern half of Illinois, parts of Indiana, Michigan and Iowa. 2nd day ground delivery service extends much further and includes Atlanta, Georgia, and parts of New Jersey. Three day ground service includes everything east of the Mississippi River except for South Florida and Puerto Rico.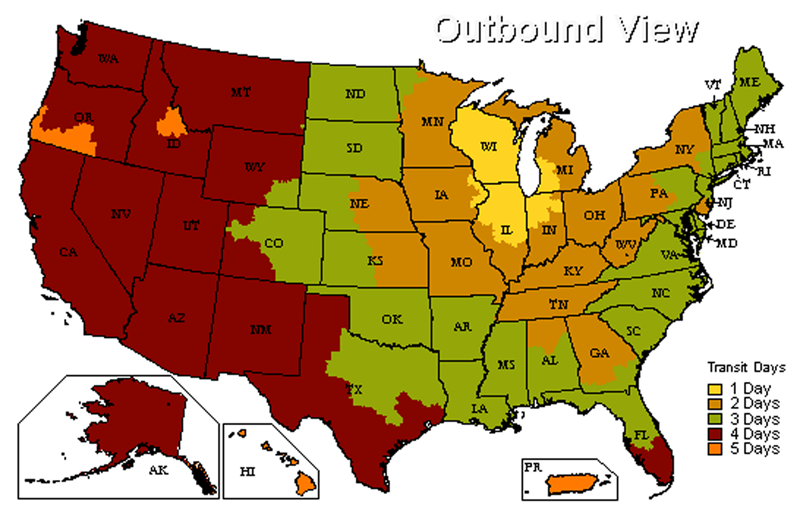 | | |
| --- | --- |
| UPS Air services are a good value when you need faster guaranteed delivery services. USPS is generally better when shipping to Puerto Rico, since they treat it as part of the USA. UPS and others shipping companies treat Puerto Rico as a foreign country which requires customs clearance. USPS has some nice cost effective domestic shipping methods with their Express and Priority Mail services. | Priority Mail is three days anywhere in the USA. Express Mail is sometimes faster. They also have flat rate boxes that save money when shipping more than 2 pounds of equipment. The main weaknesses with USPS are insurance claims which can take forever and package tracking which is optional and will not show any detail. |
International Shipping



International shipping includes all countries outside of the United States and Puerto Rico. We ship our products to customers
all over the world with only a few exceptions.

• We will ship International orders by the carrier of your choice. Our preferred carriers are UPS or USPS (postal).
• UPS is more expensive than postal but is a faster guaranteed service with better insurance. USPS is usually slower but more economical and has some nice flat rate services.
• More information can be found at the UPS and USPS web sites.


Customs clearance is required for all International shipments and extra paperwork is generally required in order to meet customs
regulations.

Please note that all International orders will be declared at their full invoiced value. Do not ask us to declare a lower value or declare your shipment as a gift. That is both illegal and unethical.